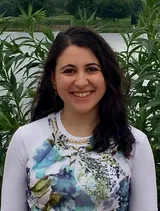 As a dynamic, bright, insightful, intuitive counselor, Shana Frenkel, LCSW-C, specializes in working with trauma and its related disorders, including the intersection between trauma, anxiety, depression, and eating disorders. She integrates a holistic model in treating and working to reduce successfully post traumatic stress (PTSD) symptoms with children, adolescents and adults.
She also has training and experience in working with military couples and military service related issues for service members and their families. Shana's clients have described her work as "an inspiration," facilitating personal growth and internal health. Shana brings creativity and above all else sincere caring for her clients to her counseling sessions. In addition to her specialty, Shana also has experience with play therapy with children, sandtray therapy with children, meditation, social anxiety, self-esteem, and couples counseling.
Shana received a B.A. from the University of Massachusetts Amherst in Therapy Through Creative Expression and her M.S.W. from University of Pennsylvania. She is trained in CBT (cognitive behavioral therapy) and CPT (cognitive processing therapy), is certified as an IS-ART therapist (accelerated resolution therapy) and is certified PCIT therapist (parent child interactive therapy).
Elizabeth Rosenberg, LMSW, joins the Healing Harmony Health and Wellness team and provides trauma-informed care with a focus on the intersection of anxiety, depression, and body image and the food-body image relationship. Bridging the individual with community, Elizabeth uses her background in community organizing to enhance positive self image and positive sense of self to confront negative messages from others and the world. As an experienced music teacher, Elizabeth encourages and incorporates musical expression into the work in and out of sessions. Overall, she works on enhancing self advocacy skills for her clients in their personal life and in the world at large, helping her clients find their voice to tell their own story. She is a member of the National Association of Social Workers (NASW) and the Association for Size Diversity and Health (ASDAH).

Kimberly is a dynamic, outgoing, trauma focused therapist. She brings authenticity, humor when appropriate, and genuine connection into the therapeutic room, providing evidence-based approaches with a strong client centered approach, where above all, the client comes first. Kimberly collaborates with her clients, by highlighting her clients' strengths while also facilitating and challenging clients' growth. She provides opportunities to process trauma, build or rebuild confidence and self-esteem, and reframe patterns and beliefs, which ultimately allows her clients to create or find new meaning from their experiences.
Kimberly also has extensive background in work with sexual trauma and sexual assault survivors. Her concentration is working with children, adolescents, and young adults who go through a diverse range of situational, emotional, physical and mental health experiences, including depression, anxiety, trauma, low self-esteem, adjustment to change, chronic illness, and homelessness. Kimberly also has a focus in working with individuals that identify as LGBTQIA+.
Kimberly received Bachelor's from Temple University in Philadelphia, after which she worked for five years as a rape crisis counselor working with individuals of all ages who experienced sexual trauma. She received her MSW from Simmons University with specialization in interpersonal violence and trauma. Kimberly is a Certified Trauma Professional, as well as received training in TF-CBT (trauma-focused cognitive behavioral therapy), CBT (cognitive behavioral therapy), play therapy, trauma informed care, and affirmative practice with LGBTQIA+.
Evyan joins the Healing Harmony Health and Wellness team bringing compassion, focus, passion, unconditional positive regard, and out of the box thinking to the practice. Her particular area of interest underscores intersectionality as a core part of her work, where she sees all features and facets that make up a person. Evyan integrates empowerment as part of her work, where she ensures a client centered focused approach. She ensures that people who feel misunderstood in society or in their own lives find their voice, while also incorporating how the people's overall environment plays a role in their lives and development. Evyan is able to take a unique perspective in understanding how trauma plays a role in self-development, development in the world and development in life. She takes a client-centered approach, really ensuring the return of self: self-esteem, self-worth and self-empowerment.
Evyan has a particular focus in working with those who feel misunderstood, undervalued in their lives and in society, including but not limited to: women, women of color, trauma survivors, domestic violence survivors, sexual assault and harassment survivors, medical conditions, grief and loss, ambiguous loss, indigenous populations, and LGBTQIA+. She brings to the table an understanding and integration of intergenerational trauma, which allows her to support clients in rewriting their story, challenge their cognitive distortions, empower change, and provide solutions to long standing issues.
Evyan graduated with a Bachelors in English with a concentration in Creative Writing from Wells College, and a Masters of Social Work from Widener University with a Specialization Certification in Social Work and Trauma Practice, and is a member of the Phi Alpha Honor Society. She creates a client centered approach bringing therapeutic interventions including motivational interviewing, harm reduction model, narrative therapy, CBT (cognitive behavioral therapy), person in environment, strengths perspective, bibliotherapy, somatic experiencing, and mindfulness.