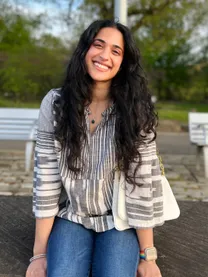 Sunaina Tandon is a warm, dynamic, holistic, insightful and collaborative clinician who brings a strengths based and relational approach to her work. She focuses on ensuring how to teach and enhance a client's personal voice in their own narrative. This helps a client to orient towards wellness. With her unique journalism background, Sunaina has a special ability to get to the source of pain in a client in order to create positive, growth-orientated, long lasting change in clients.
Sunaina is a trauma based clinician who works with diverse age ranges, children, adolescents, young adults, and adults. She uses a narrative approach to increase client's ability to infuse empowerment and increase a client's self-agency, while reclaiming that which was lost. Through a cultural relational approach, Sunaina uses cognitive behavioral therapy to support clients on their self-esteem, resilience, trauma, relationship trauma, interpersonal trauma, depression, anxiety, body image, somatic regulation, and cultural clashes. At her core, Sunaina brings a myriad of trainings to tailor her treatment for each of her clients to ensure the optimal outcome and healing of a client. Sunaina also has a specialty in working with clients of diverse backgrounds, including LGBTQ+, immigrants, ethnicities including South Asian and Hispanic communities.

Sunaina has a Master's of Education from Temple University in Counseling Psychology. She also graduated with a Bachelor's in Journalism and Mass Communication from The Walter Cronkite School of Journalism at Arizona State University. In addition, she graduated with honors from Barrett, the Honors College at Arizona State University.